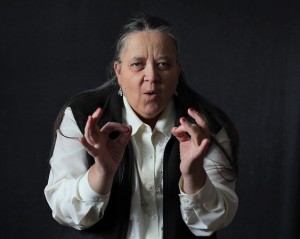 Since birth, I've never wanted to grow up so I write children's books. My characters get to have adventures. For a fun spin, I also travel into the realms of Science Fiction and Fantasy. Its one thing for a character to face life's challenges but to do it on an alien world or different culture makes it all the more… interesting.
Never being able to keep my mouth shut, I'm also a story teller. Let's just say that my material is not the average fairy tale story.
With my many interests I write nonfiction. As I have opportunities to teach since my college days (a little… maybe more… okay already. A long while ago) I've use object lessons in my teaching of children and adults. Much of my nonfiction touches upon teaching techniques.
-Storyteller Press Kit
Melva Gifford is a Utah Story Guild member and Timp Tellers member and contributor to USG's Tale swapper newsletter.
I have performed stories at events that include: Thanksgiving Point, Pioneer Days, Ellis Island (Orem event), Community fairs, Provo Park, Orem's Library's Liars Competition, Business celebrations, City Fairs, Springville Art Museum, family reunions, family parties and WUS story telling festival.
Comments from the WSU Storytelling Audition committee: The balloon head story would be a fun and silly story to share with the kids. Many kids would giggle at the idea of a head getting bigger and bigger. The audience interaction with us shouting out "Melva!" made it a more memorable experience. You had appropriate gestures that allowed the audience to visually see the story while you told it. Overall, you are a wonderful and dynamic teller!
-Writer Press Kit
Melva Gifford has been writing since her youth. She has had fiction and nonfiction shorts published in various magazines. My story lines touch upon many realms of interest from children's main stream, science fiction and fantasy, includes nonfiction as well as adult science fiction and fantasy.
For nonfiction I have been creating a series of object lessons to promote Christian values. These lessons are geared for family devotionals, youth ministries, family home evenings and family activities. The book I Know You THINK This is a Toaster: Promoting Family Values Through Object Lessons is my largest collection of lessons. Additional lessons are available through the blog Teaching Embellishments.
Current published works include:
Operation Middle School Madness
I know you THINK this is a Toaster: Promoting Family Values through Object Lessons
Please go to www.melvagifford.com to get up dates on future works that will soon be available.